The Panopto player provides much more functionality than most video players.
Visit the Panopto Video Viewer overview page for a full description of the capabilities.
Then try it for yourself by viewing some lecture recordings created by SAS faculty using the Panopto Recorder software on a typical laptop computer.
Notice how the player includes:
Dual windows for camera and presentation materials.  Viewers can decide which to make bigger, and which to keep smaller.
A text and visual index automatically derived from the slide titles and slide changes.
Full text search based on both automatic speech recognition and text from the slides.  Try it! Search for a term you heard or saw during the presentation.
Variable speed playback. Playback can be sped up for review, or slowed down for non-native English speakers or others.
The ability to create bookmarks, take notes, or add comments.

Bookmarks and notes are personal. Only the person who entered them can see them.
Comments are viewable by anyone watching the video.  You can disable comments for individual videos or for all videos in a folder. 
Example 1: Dr. Yvette Bordeaux introductory video for Climate Change 230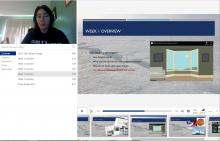 Notice how she references how the video relates to intended learning outcome and assignments.
Example 2: Dr. Rogers Smith mini lecture for Political Science 272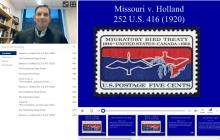 This mini lecture is one of many in the course that are used as prompts for discussion.