The Levin building includes two group study rooms for students - rooms L14 and L15 on the Mezzanine level.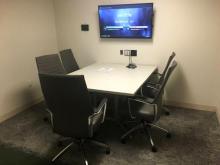 Each room includes:
Table with seating for 4
Large screen display with connections for laptops; there are no computers installed in these rooms.
Solstice wireless screensharing system which allows up 4 laptops or mobile devices to connect to the screen without plugging in. See below for details.
Please note
The Levin Building is open Monday-Friday 8:00am-10:00pm. Students are welcome to reserve the rooms during this period. Sorry, the rooms are not available late nights or weekends.
Use is restricted to Pennkey holders.
These rooms are intended for use by groups of 2 or more people. Individuals may not reserve study rooms for private study but may use unreserved rooms when these are not needed by a group.
Students are welcome to walk in and use unoccupied rooms, but must vacate when groups who reserved the room shows up to claim the space
Groups that do not arrive within ten minutes of their reserved start time will lose their reservation. A continuous set of 30-minute reservations will be canceled in entirety.
Each individual may reserve a space for group use for up to two hours per day, or up to 14 total hours per week.
Reservations can be made to seven days in advance
Patrons are expected to abide by Penn's Code of Student Conduct
Please clean up after yourself. Dispose of all trash; remove all personal article when you leave
Contact bio-computing@sas.upenn.edu with any questions, problems or suggestions concerning these rooms.

Try the Solstice wireless screen sharing system.
With Solstice you can show your laptop or mobile device on the big screen without plugging in. It's easy to use and can improve collaboration in your group.
Basic instructions for using Solstice are posted in the room, or view Getting-Started-with-Solstice.pdf