Overview
Multi-Media Services provides videoconferencing either in our personal video conferencing rooms (seats 1 or 2 people) or in our studio (seats up to 8 people). We also have portable equipment that can be set up in many classrooms. Our equipment support most internet protocols, including h.323 (typical for Polycom, Lifesize, and Tandberg systems), Zoom, Skype and other web conferencing systems.
Classroom Video Conferencing
(Capacity: Based on class size)
It's no longer necessary to reserve special videoconferencing rooms in order to make a connection between your class and a remote participant. Our portable video conferencing equipment can turn any Central Pool Classroom, with an installed data projector and a laptop input, into a virtual meeting space. This solution is ideal if you would like to bring in a guest speaker via video conference. Whatever technology your guest plans to use to connect to the class, we should be able to accommodate. The result is that we can get good pictures and sound transmission in most classrooms with as little as 15 minutes of setup time. We offer Zoom as a modern video conferencing solution. If your guest doesn't have access to a webcam, they can simply connect via telephone and we'll be able to set up an audio-only session via Skype.
Please contact us for more info.
Compatible Codecs/Software:
Group Video Conferencing
 (Capacity: 8)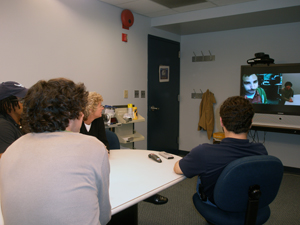 Within the MMS Studio we offer video conferencing for groups as large as 8. There is a large screen TV and conference table as well. This system uses a standalone LifeSize® unit.
Please contact us for more info.
Compatible Codecs/Software:
h.323 (works with most Polycom, LifeSize, or Tandberg systems)
HD h.323 using h.264 (works with most HD Polycom, LifeSize or Tandberg systems)
With all video conferences, we require making a test call to ensure both sides' compatibility.
IP based video conferencing

SAS

Non SAS

$100/hr (2 hour minimum)

$200/hr (2 hour minimum)

We do not charge for sessions that are related to SAS undergraduate courses
Unfortunately we have no ISDN capabilities — please check out the Penn Video Network for solutions with ISDN calls.