The Language Resource Center (LRC) is designed to support faculty and instructors in the preparation of resources for instruction in the School of Arts & Sciences at the University of Pennsylvania. Its primary focus is language instruction.
The LRC is available for the use of all SAS faculty and instructors. It may also be used by teaching assistants and others who are working on instructional projects on behalf of SAS faculty. It is not an undergraduate student lab.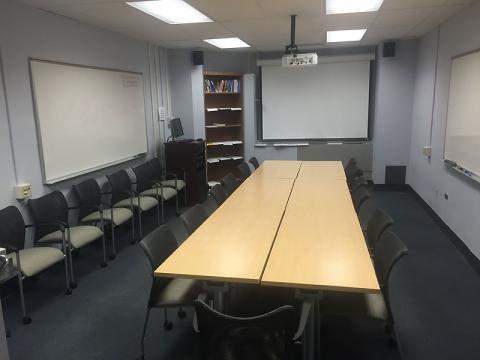 Williams Hall, room 440
Services
Typical services Include:
consultation
training in the use of technology
digitization and editing of text, sounds, images, and video
capturing online audio and video
desktop and online publishing
Facilities
The LRC is located in rooms 440 and 441 of Williams Hall at 36th & Spruce Streets. Room 440 is set up as a multipurpose space with the ability to host small workshops, meetings, and video conferencing sessions. Room 441 contains most of the specialty equipment and higher-powered computers.
Room 441 is equipped with Macintosh and Windows machines that are configured to handle foreign-languages, including non-Roman fonts. We have one HP LaserJet printer you can use to print with PennCash. A book scanner and flatbed scanner,permit digitization of text and graphics. Any of the equipment can be reserved by messaging .
Hours of Operation
The LRC is open Monday through Friday 8:00am - 4:00pm. It is closed when the University is closed.
Hours are subject to change.
Calendar for the LRC Meeting Room (Williams Hall, room 440)
Reservations
To reserve room 440, the LRC Meeting Room, for a workshop or other event, contact . You can view the room's availability in the Google calendar shown above.  Reservations will only be taken for the current semester.
Workshops
The LRC offers workshops throughout the year on topics concerning technology and pedagogy.
Administration
The LRC is administered by Instructional Technology, which is a part of SAS Computing here at the University of Pennsylvania.